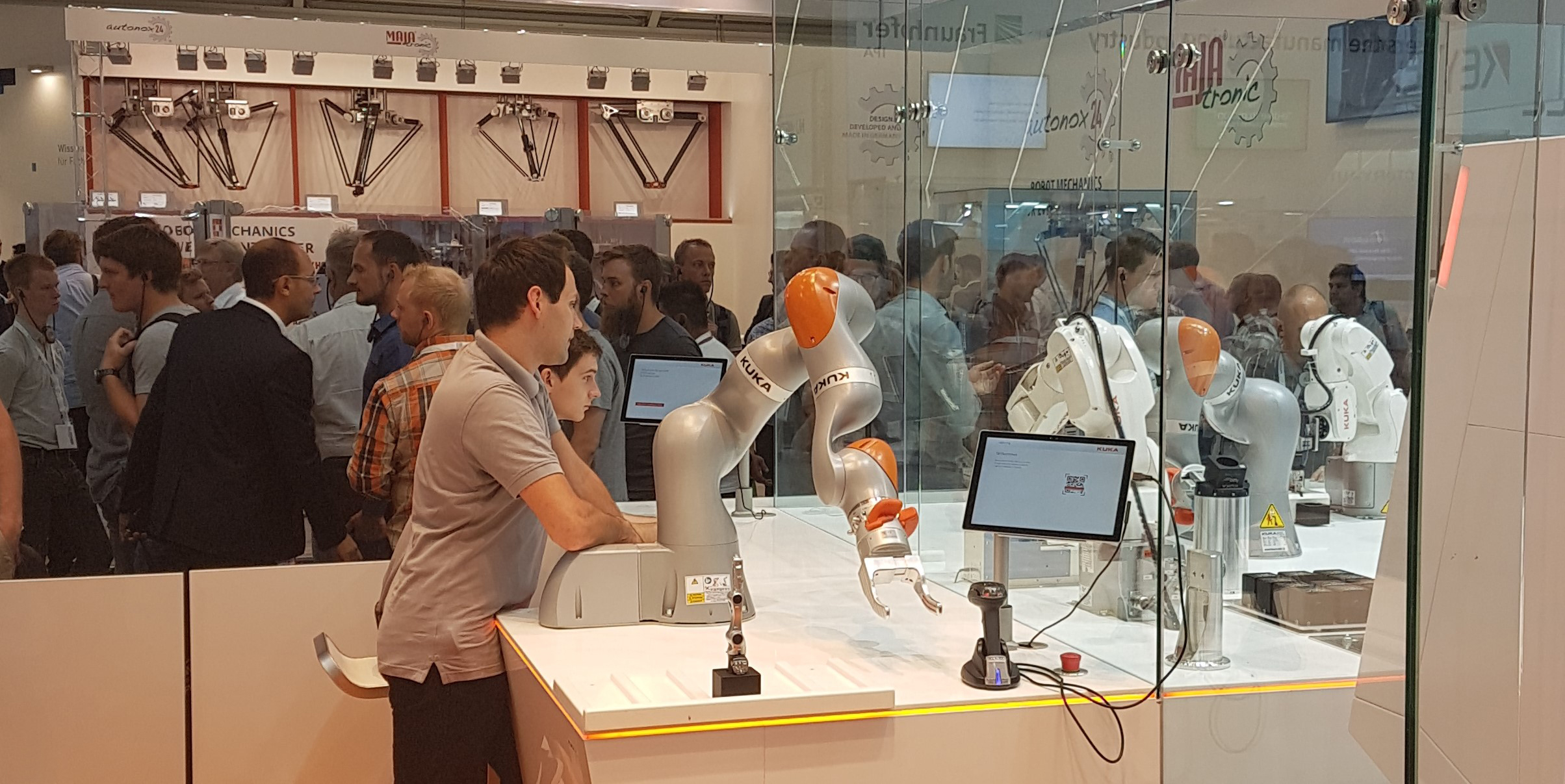 20. Jun 2018
XITASO software supports the KUKA Smart Factory at the "automatica" trade fair in Munich
Digitization in the manufacturing industry means networking, intelligent control and convenient operability. Our long-standing customer KUKA will demonstrate precisely this with the Smart Factory at the upcoming "automatica". The backbone of this live scenario is the software solution implemented by XITASO.

To mark the 120th anniversary of its founding, KUKA has thought up something special to demonstrate just what intelligent automation means. In a production demo at the trade fair booth, small robot models are manufactured and intelligently placed in specific storage locations ready for collection. The control of this live scenario, including the definition of a personalized engraving, comes from the XITASO software specialists. The production process is triggered by the Smart Factory app that we designed and implemented. It can be used by trade fair visitors via tablets at the KUKA booth. In accordance with common industry requirements, the app was developed on the principle of "security by design" and thus acts as a secure interface between the user and the KUKA warehouse management system.
Following successful operation at Hannover Messe in the spring, the scenario is now to be showcased at automatica in a similar form. The version for the trade fair in Munich has been upgraded for enhanced ease of operation. "We are very pleased that our software is once again an important part of this trade fair appearance," states Christian Höfle, Project Manager at XITASO. "For us, optimal usability of the ordering interface is critically important with such applications. Our app allows production supervisors to influence a highly automated production process at various points. It is an outstanding example of how software integrates into an automation environment, interacts within a network and generates added value."
Further functions, which have been organized under the concept of different user roles, include the release of production quotas to guard against overutilization of the manufacturing system, the prioritizing of jobs in the queue and the option of requesting a production sample for quality control.
From 19 to 22 June 2018 at booths 221 and 231 in hall A4, KUKA is demonstrating the interaction of numerous industrial robots and automation solutions in the Smart Factory.